Vision. Strategy. Aquire.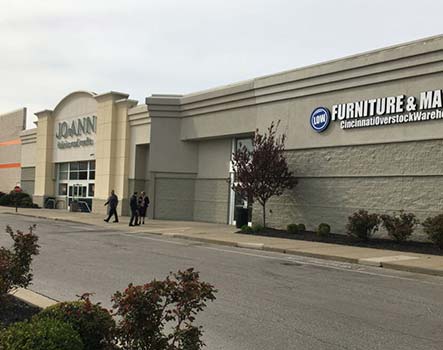 Houston Lakes Retail Center
49,594 SqFt
Florence, KY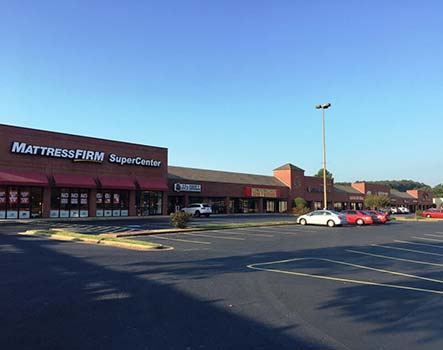 Rock Creek Square
43,162 SqFt
Little Rock, AR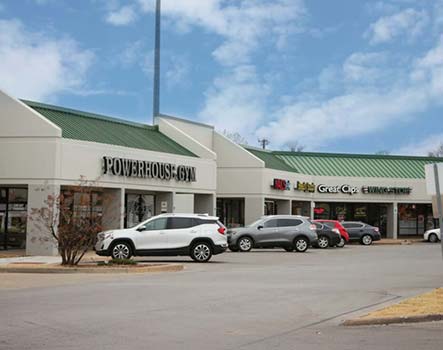 Perimeter Square
58,449 SqFt
Tulsa, OK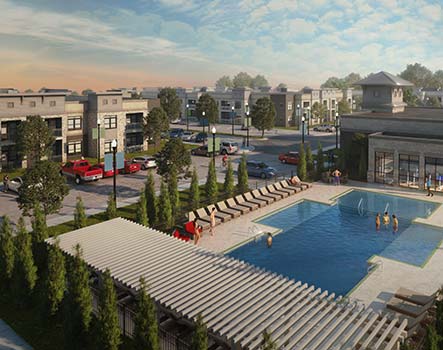 Village @ 111
UNDER DEVELOPMENT
182 Units
Broken Arrow, OK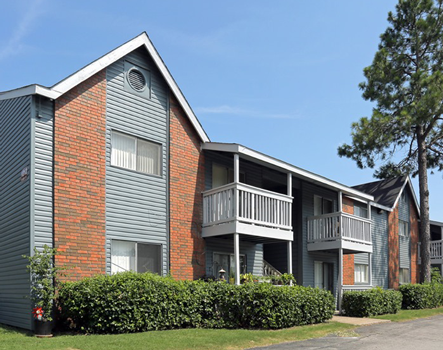 The Villas at Hope Valley
256 Units
Tulsa, OK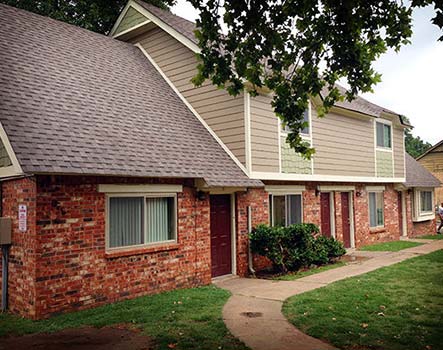 Windsor Village Townhomes
47 Units
Tulsa, OK
Introduction To Our Philosophy
Precision Equity believes that well located cash-flowing multifamily and retail properties are attractive investment assets in nearly all economic conditions. Multifamily real estate is well understood as an inflation hedge in boom years and recent history has also shown that demand for rental apartments can increase during economic downturns. This helps insulate multifamily real estate from the downward pressures acting on other categories of real estate during a recession.
Precision Equity follows a conservative investment strategy of acquiring stabilized, cash-flowing, but under-performing multifamily properties that allow us to add value through enhanced operations and non-structural improvements. However, at each newly acquired property we typically undertake a program of capital improvements and implement new professional property managers with a track record of achieving and maintaining high occupancy and profitability.
<!============= Process Steps Template Designer 1.3.2 =============>
We Find The Deals

We Find The Deals

We Increase The Value

We Increase The Value
Stock Market vs. Precision Equity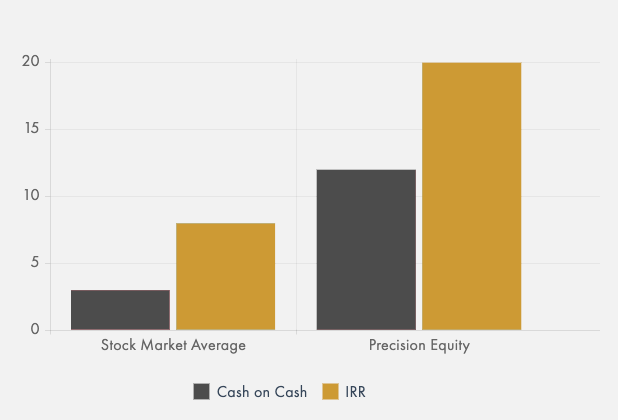 "Precision Equity takes the pressure off of relying on the stock market to grow wealth. Thanks again for providing such terrific investment opportunities and for having the right people in place to deliver excellent returns time and time again."
— BRIAN J. DUCK
Our Core Business Services
EQUITY PARTNERSHIP
Investment opportunities are offered to high net worth individuals interested in being investment partners with Precision Equity and its affiliated companies. Precision is owned and operated by men of character who are fully committed to the deal and to our investors. Both integrity and loyalty are paramount to who we are and no amount of money will cause us to compromise these principles.
RETAIL MANAGEMENT

After closing on over 450,000 sq' of retail centers, it was a natural progression to move into the retail management space. Now Precision can add even more value to its Investors by managing all aspects of their investment.
BROKERAGE SERVICES

Precision Realty Advisors, one of our sister companies, is a fully licensed brokerage firm. We not only facilitate your investment process including acquisitions, dispositions but can also assist in many other areas of commercial real estate investing; feasibility studies, how to find and evaluate deals, financing, negotiation, operation, etc…
RETAIL LEASING

Precision Equity specializes in handling the renewals of our own retail tenants "in-house". We have since grown and now handle third party retail leasing for not only our properties but others alike.
MULTI-FAMILY MANAGEMENT

Precision Equity is a full service provider of multi-family real estate property management and has a complete management team including a Regional Property Manager, in house maintenance, plumbing and HVAC staff. Precision takes a very strong hands-on approach to working with owners and investors. Our services are unparalleled in today's market.
MULTI-FAMILY RENOVATION

Precision Equity employs a complete in-house interior and exterior renovation team. We have extensive experience in multi-family renovation
Since inception in 2003, the company has closed on more than $200 million in total commercial real estate assets including over 2400 multi-family doors and just over 533,000 SF of retail space!